Special COVID cancellation conditions
The cancellation conditions described below apply only to customers who have booked their stay in one of our 4 domains in the South of France and who have made their reservation directly with L'Ami Soleil (via tel, email or website).
Following the COVID19 crisis, we have added some special cancellation conditions so that everyone can book their next vacation with peace of mind.
In the following cases,
the customer is covid positive at the time of the beginning of the stay;
the domain is closed for reasons related to Covid 19;
the client cannot travel for reasons of lockdown, border closures and/or quarantine measures to go to France or when returning home after vacation.
As a L'Ami Soleil customer, you will recover your entire budget. The refund will be made either in the form of a voucher valid until the end of 2022, or by refunding the amount already paid (within 60 days).
If you wish, you may also change your dates of stay by postponing it to a later date (under conditions*).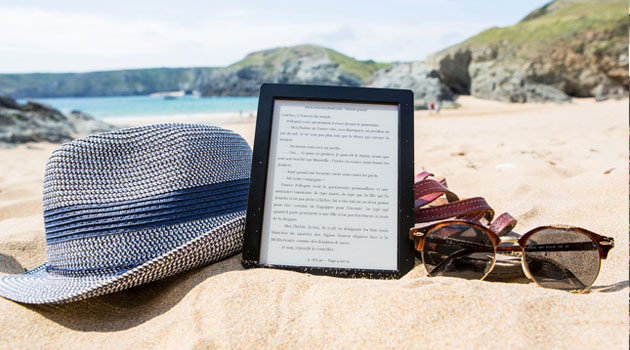 These special COVID cancellation conditions are in addition to our usual cancellation policy and the cancellation guarantee you benefit when you book directly with L'Ami Soleil.
* Selon les disponibilités et sous réserve d'un supplément équivalent à la différence entre le prix du séjour initial et le prix du séjour aux nouvelles dates.
---
Travel yes, ... but safe!
The post-Covid period is very uncertain but you need a break and you are wondering if it is reasonable? You wonder about the conditions under which it will take place? You will find below all the answers to your questions.
SWIMMING OOLS
The aquatic complexes will open at the beginning of June. Their surface area is large enough to welcome you safely.
We have reinforced our hygiene and safety measures. Here are a few examples of the actions implemented:
Provision of hydro-alcoholic gel at the entrance of the pools

Spacing of the deckchairs in order to respect the rules of social distancing

Implementation of social distancing marking for slide accesses

Regular cleaning and disinfection of floors, surfaces and equipment accessible to vacationers (deckchairs, etc.).

It is forbidden to bring equipment into the pool area (balloon, float, etc.) BUT equipment and water games are available to holidaymakers.

Armbands and other small inflatable buoys for young children will be systematically disinfected at the entrance of the aquatic area.

Systematic disinfection of all equipment borrowed from our "pool" team between uses.
Animations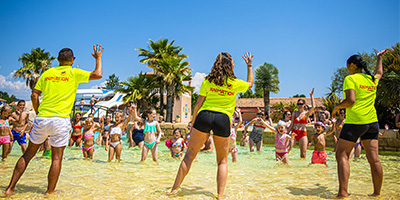 Our animation teams will be present this summer to make you live great holidays at L'Ami Soleil.
We will adapt our animation program according to government instructions considering health recommendations.
We will set up specific hygiene measures that will allow you to have fun in complete safety.
Provision of hydro-alcoholic gel during the activities;
Disinfection of all the equipment used during the activities.
Animations will be proposed from morning to evening, respecting the rules of social distancing.
Restauration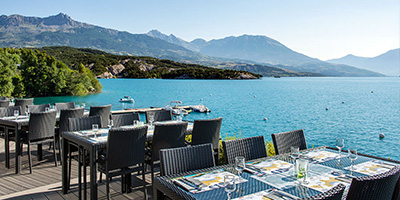 As far as government directives in France allow it, the opening of our restaurants / bars is planned during the month of June.
With the exception of the restaurant L'Ecrin in Chorges, which will open at the end of June, the bars and restaurants in the other areas will be open from mid-June.
The rules implemented for the reopening of the HORECA will be applied in our establishments.
This means especially for customers:
Provision of hydro-alcoholic gel
Wearing of the mask by staff
One meter spacing between tables
Disinfection of tables and furniture between uses
"We do everything possible to ensure that you enjoy your stay as you always do.
With a few extra sanitary rules, all the basics for your holydays will be there this summer!"
---
Questions / Answers - Your holidays next summer
You probably have many questions about the way the animations will take place, if access to the swimming pools will be limited, if the wearing of a mask will be mandatory ... It is quite legitimate. Discover below our special question/answer summer 2021.

What are the sanitary rules in place in the domains?
Because our domains are outdoors, the rules of distancing will be easier to maintain.
We have established a Reinforced Health Charter in order to welcome you in optimal security conditions.
All the staff of L'Ami Soleil domains will be trained to this situation and to the new protocols.
Will I have to wear a mask during my stay?
The mask is now mandatory in closed areas. Therefore, you will have to wear it when you go to the reception desk. For the rest, we will follow the rules dictated by the government authorities. During activities and animations, it will in any case be recommended.

Will the aquatic spaces be open?
YES, the aquatic zones will be accessible, including slides, whirlpool area, etc. These spaces will be subject to the rules of social distancing as well as barrier gestures which now hold no secrets for you. Hydroalcoholic gel will be made available at the entrance and the deckchairs will be available but will have to be placed in such a way as to respect the safety distance of one meter between each family.
Moreover, the water in our pools is chlorinated, which kills the virus. You will therefore be able to swim in complete safety.
The good news is that the surface area of the aquatic spaces is large enough to accommodate all of our holidaymakers. So everyone will be able to enjoy it. There will be no schedules to respect or other restrictions.

Will the animation be limited?
NO! There will be as much animation as in previous years. The teams will be in place to welcome you at the end of June.
The activities proposed will be simply different, favouring outdoor spaces, distancing and well-being.
Animations will be proposed morning, afternoon and evening. Our teams will use their ingenuity and creativity to offer you new activities throughout the day.
When equipment is used, it will be completely disinfected between uses.
---
Domains adapted to travel in complete safety
In addition to the implementation of these hygiene and health safety measures, you should know that our domains are designed to allow you to enjoy your holydays in complete safety
Here are some facts which prove it:
Each accommodation is equipped with at least one bathroom and individual toilets.
Each accommodation has a fully equipped and individual kitchen.
There is comfortable spacing between each accommodation. Hedges also separate the outside spaces of our accommodations.
The domains are large enough to ensure social distancing and the safety of all holidaymakers.
The domains offer a wide range of outdoor activities (sports facilities - outdoor outings - etc.).
The domains are located close to large natural areas (the sea, national parks and/or mountains).
In short, the fully equipped accommodations allow you to spend your holydays in complete autonomy and therefore, in complete safety.
---